What's the difference between SMC, GPO3, and UPGM?
1.SMC insulation board is a glass fiber reinforced sheet molding compound made of unsaturated polyester resin (UP), special yarn (GF), inorganic fillers, various additives, and a plate-shaped product that is molded at high temperatures. It has good electrical properties, mechanical properties, arc resistance and tracking resistance, flame retardancy, low-smoke, non-toxic and flame-retardant properties, and has low water absorption and stable dimensions.
SMC sheets are widely used in high, medium, and low voltage electrical and electrical industries, such as switch backplanes, transformer coil supports, and automotive lamp cap resistors. The size and color of SMC sheets can be customized according to customer requirements, which can minimize product costs.
2.GP0-3 board is made of alkali-free glass fiber felt sheet immersed with unsaturated polyester resin add additive by the hot press to form hard sheet insulation. GPO-3 is a glass-reinforced thermoset polyester sheet material. GPO-3 is strong, stiff, dimensionally stable, and impact resistant. The material also has excellent electrical properties including flame, arc, and track resistance.
The GPO-3 board is widely used for electrical insulating applications. GPO-3 is also used for mechanical applications where strength, stiffness, dimensional stability, and relatively low cost are required. Application area: circuit breaker, motors and so on.
The application of circuit breaker: frame circuit breaker: safety baffle, safety cover, spacer gasket, interphase partition, etc.
The application of molded case circuit breaker: interphase partition, arc extinguishing chamber spacer plate, etc.
The application of motors: Motor armature parts, movable cover plate, slot wedge stator, fixed gasket, thin gasket, carbon brush seat, etc.
3. UPGM (polyester glass mat) insulation board products are made of alkali-free glass fiber mat impregnated with unsaturated polyester resin paste, and the corresponding additives are added through
Rigid insulating board formed by hot pressing. This series of products has excellent electrical insulation properties and good mechanical properties, and is widely used in rail transit,
Photovoltaic, wind energy, power transmission and distribution, metallurgy, mining, petrochemical, public transportation, and other fields.
UPGM-201: mechanical and electrical, good stability of electrical properties under high humidity, good mechanical properties at medium temperature
UPGM-202: has good mechanical and electrical properties, good mechanical properties at medium temperature, and excellent flame retardant properties
UPGM-203: mechanical and electrical, similar to UPGM202, improved arc resistance and tracking resistance
UPGM-204: Compared with UPGM-203, it has better mechanical strength and better heat resistance level, and is suitable for more severe service conditions, but not flame retardant
UPGM-205: For mechanical and electrical purposes, it not only has high mechanical and electrical strength at room temperature but also has excellent heat resistance. same
The material has good arc resistance and tracking resistance, and has high low-smoke, non-toxic and flame-retardant properties.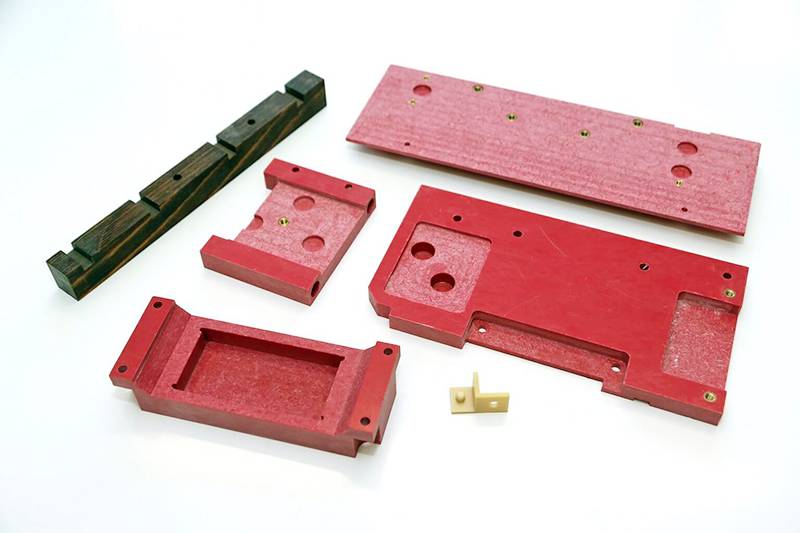 Parameter of  SMC and GPO-3 board:
| | | | |
| --- | --- | --- | --- |
| Properties | Unit | SMC Value | GPO3 Value |
| Density | g/m2 | 3.6 | 1.85-2.1 |
| Water absorption | Mg | ≤20 | ≤15 |
| Tensile strength | Mpa | ≥170 | ≥180 |
| Compress strength | Mpa | 220 | ≥60 |
| Adhesive strength | N | ≥3800 | ≥3800 |
| Dielectric strength | MV/m | ≥12 | ≥12 |
| Breakdown voltage parallel | kV | 79 | >42 |
| Comparative tracking index | – | 600 | ≥600 |
| Dissipation | – | ≤0.06 | ≤0.06 |
| Permittivity | – | ≤4.5 | ≤4.5 |
| Insulation resistance | Ω | ≥1.0×1012 | ≥1.0×1012 |
| Deformation temperature | °C | ≥240 | ≥240 |
| Arc resistance |  S | ≥180 | ≥180 |
| Flammability | class | V0 | UL94V0 |
Certificate of SMC and GPO-3 board:
Here is the certificate of our insulation materials and factory, which can ensure the quality of the products which supply to our customers. In 2011, we obtained the certificates of ISO9001:2008 International Quality Management System, and ISO14001 organization environmental management system. Products including Power Distribution Cabinet, HV Switchgear, Transformer Substation, Complete Switchgear and power transformers (below 35kV) passed the tests from CNAS, IAC-MRA, AL, CMA and others international testing organizations.

Video of SMC/GPO3/UPGM Board Package:
Here is the video of GPO-3 board packing, which you can know more details of the package of our products.
Service of GPO-3 board:
1Pre-sales service
We offer 1V1 personal service and our professionals will provide you with technical guidance and free samples.
2. After sales service
Our staff will communicate with you on a regular basis and any insulation issues can be consulted in a timely manner.
3. Product Service
We offer product size customization and product processing services.
FAQ of GPO-3 board:
1. Is ZTELEC a manufacturer?
A: ZTELEC is a Chinese manufacturer of insulating materials and was founded in 1958.
2. Do you support custom?
A: We can customize the products according to customer needs and support the processing parts.
3. Is the sample free?
A: Our samples are free, but require the customer to bear the shipping costs.
4. Is there a spot?
A: Our warehouse maintains stocks throughout the year and some sizes can be shipped within a week.